If you are a fan of Asian decor and are looking for something unique to add to your garden, then you should consider Japanese stone lanterns; which not only get the job is done brightening the outdoors, but they're also pretty easy on the eye, providing a distinctive ambiance and style to your garden. That is the reason why today we'll be telling you all about types of Japanese stone lanterns.
Japanese stone lanterns were first used in ancient Shinto shrines, serving as votive lights. In the sixteenth century, Japanese tea masters included the stone lantern in Buddhist tea gardens as a means to light the way with their rustic beauty and rich light. If you've become fascinated by Japanese stone lanterns, here is your chance to learn more about them.
You can opt for a traditional style or a more contemporary addition to your landscape with Japanese stone lanterns. However, if you are new to Japanese stone lanterns, it all may seem a bit overwhelming. With many options in the market, things get a bit fuzzy but do not worry because we'll be breaking down everything you need to know. Keep reading, and as you learn about types of Japanese stone lanterns, you can choose your favorite from our top picks.
Brief History on Japanese Stone Lanterns
Lanterns weren't always a garden element. They were invented in a religious context during the Tang Dynasty in China. Daoists used lamps in altar rituals, while Buddhists used them during votive ceremonies. The Buddhist community, at some point, introduced stone lanterns as a manifestation of their lamp rituals. Later, the Daoist community built their stone lanterns, following the Buddhist example.
During the Nara period (710 – 794), the predecessors of today's stone lanterns were introduced from China via Korea through Buddhism into Japanese temples and during the Heian period (794 – 1185) also into shrines.
In Muromachi/Momoyama period (1336 – 1600, the lantern became popular in tea gardens/pathways leading to the teahouse as a functional element. They should brighten difficult parts of the paths or the tsukubai area. When the garden was large, like in Katsura Rikyu, the guests' interest should be awakened by using many different styles of lanterns.
From the tea garden, the lantern made the jump into other garden forms and is now an integral part of the Japanese garden; although
solar fairy lights
are not Japanese, they are becoming more popular each day.
Japanese Stone Lanterns FAQ's
Why choose Japanese stone lanterns?
Stone lanterns, or Ishidourou, serve to add to the balance, harmony, and enduring nature of the garden and have become almost iconic in their significance and are now popular items even among western gardeners.
What are the Japanese stone lanterns called?
In Japan, a tōrō (灯籠 / 灯篭, 灯楼, light basket, light tower) is a traditional lantern made of stone, wood, or metal. Like many other traditional Japanese architecture elements, it originated in China, where they can still be found in Buddhist temples and Chinese gardens.
What is the significance of Japanese stone lanterns?
They were first used as votive lights. They were introduced to Japan from China via Korea at some time during the 6th century as part of the arriving Buddhist tradition, with the light held in the lamp representing the teachings of the Buddha that help overcome the darkness of ignorance.
What is the difference between Japanese and Chinese lanterns?
The terms Japanese lantern and Chinese lantern are often used interchangeably, though there are differences. A Japanese lantern is a paper lantern in most cases but may have some silk in it as well. In some cases, the entire lantern may be made of silk. This is usually not the case with Chinese lanterns.
What is the structure of a Japanese stone lantern?
The traditional lantern comprehends the following parts:
Crown gem
Umbrella
Firebox
Plattform
Pole
What are the types of Japanese lanterns?
We can differentiate lanterns into two main groups:
The hanging lanterns or Tsuridourou; are usually made of metal. They are still commonly seen in Japanese shrines, hanging from the roof's eaves.
The second group is standing lanterns, Daidourou, commonly made of stone (granite) or bronze. The bronze lanterns are famous for being an early lantern form. The most popular lanterns are made of stone.
What are the types of Japanese stone lanterns?
Popular types of stone lanterns include:
Kasuga: A big lantern at exposed places or partly hidden by trees in the background. An authentic elemental lantern.
Oribe: Smaller lanterns for tea gardens or lighting paths or elements we want to emphasize.
Christian: It is very similar to the Oribe lantern but with a cross or Virgin Mary at its base.
Yukimi: Placed near water or at very exposed places.
Sode-gata: This type is mainly for lighting paths and is middle-high.
Misaki Tōrō (cape): A small lantern is placed at a cape in a pond.
Oki dōrō (small standing without pole): A tiny lantern is placed on a flat stone next to a path. They are so small they can be moved easily around.
Yamadōrō: A natural-looking lantern (irregular shape) is placed within the vegetation's background. There are high and middle-high types.
Kakudōrō square-shaped: There are many kinds of square-shaped lanterns; they are usually not placed in gardens; and look similar to old, huge lanterns which were once used along roads to brighten these or as a lighthouse. The smaller types were placed in front of graves.
Japanese Stone Lanterns
Surrounded by Asian Buddha statues, butterfly-attracting hanging flower baskets, or standing alone as decorations in a winter's landscape, these lantern pagoda statues will create a magic Zen oasis in your outdoor Oriental garden.
Lift the pagoda roof lid on this decorative antique replica lantern to add your battery-powered electric LED tea light.
Hand-cast using real crushed stone bonded with durable designer resin, our vintage style Asian garden statue is topped with UV resistant two-tone white and grey stone finish.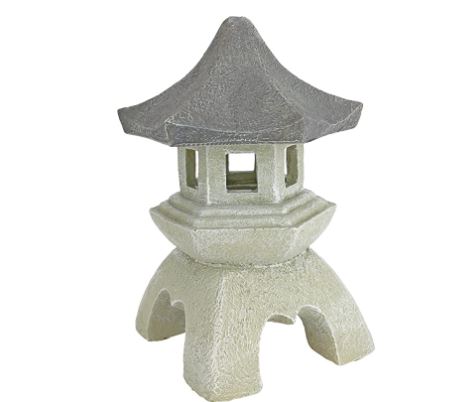 Features:
Two-Tone Stone
Resin
62.24 Ounces
This Lantern is the perfect addition to any home or garden. The lanterns is beautifully detailed, and it is a 3 Piece Japanese Lantern featuring hand-stained and pre-aged color.
Made utilizing proprietary casting techniques. The stone product features a hardener added during the mixing process that helps it attain a 6000psi rating, so you know they will last a lifetime and truly are solid as a rock.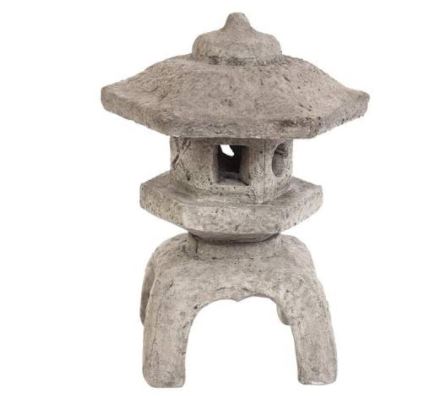 Features:
This Japanese style pagoda adds some zen to the garden, yard, patio, lawn, or home, making people feel peaceful and serene. It's a way to heal, comfort, protect and inspire people. Also, it's really worth the art collection.
Made of high-quality, durable resin, it has a sun-protective and waterproof coating. There is no need to worry about damage, even if it is placed outdoor in bad weather.
You can put the tealight or LED light into the lantern to add enchanted light to your secret garden or home.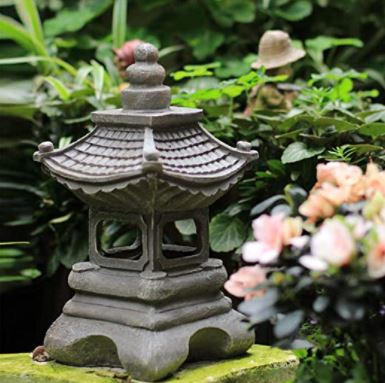 Features:
 LED light
Durable Quality
Resin
Make your gardens more enchanting by adding these Japanese-style outdoor statues from Primo Supply to add some light. Intricately styled to add that oriental Zen feeling, these garden statues will add more charm and beauty to any garden, landscape, or even water feature in your home.
Whether you're fond of collecting buddha statues, zen decor, gnome garden decorations, or Japanese yard art, there's no doubt that these Pagoda lantern statues will suit your space perfectly.
Standing alone or atop anything, this Japanese garden statue can beautify even your water feature setup, mini indoor garden, bathroom, or patio.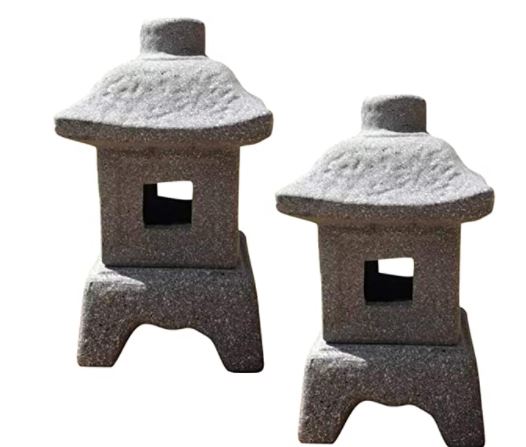 Features:
Stone
Decorative
Outdoor/Indoor