Is your garden missing something? How about awesome solar lights! Suppose you are on the lookout for a lighting solution for your garden. In that case, you should consider hanging solar lights, which are not only efficient but they're also lovely to look at, elevating your garden's decor to a whole new level. That is the reason why today we'll be telling you all about different types of hanging solar lights for your garden.
Solar Lights are viewed as the most practical and energy-efficient solution for lighting up the outdoors. Apart from providing aesthetical value, they add safety and security to your home and don't require any electricity to be powered on. Want to hear the best part? Hanging solar lights can be installed easily.
However, if you are new to hanging solar lights for your garden and are currently searching for the best possible options for you and your needs, things may seem a bit overwhelming. With many options in the market, things get a bit fuzzy but do not worry because we'll be breaking down everything you need to know. Continue scrolling down and discover types of hanging solar lights for your garden.
Hanging Solar Lights FAQs
Do solar lights need the sun or just daylight?
Solar panels use the energy from daylight and not direct sunlight; direct sunlight provides the best conditions as it's the least diffused through a cloud. Dark thick clouds will absorb far more daylight than thin white clouds and will, in turn, reduce the output of the panel.
Can I leave my solar lights out in winter?
You can leave your solar lights outside during the winter as long as they are rated outdoors. There will be an indoor or outdoor rating on the packaging of each set of solar lights you purchase. Cold temperatures and rain, snowfall, and cold days will affect how well the lighting works.
Can solar lights be rained on?
Yes, Solar light can leave outside in the rain. Rain can not damage your solar light. It is designed to withstand natural weather like rain, snow, wind. They are made water-resistant or waterproof, so they cannot be damaged by rain.
Do solar lights charge on cloudy days?
Yes, solar lights charge on cloudy days. During daylight, even when overcast, the solar panels continue to charge the batteries, and on a full charge, the system is designed to work for at least three days with no sun.
How do you place Hanging Solar Lights?
Trees are natural supports for decorative outdoor string lights, especially if you have them on both sides of a garden area.
First, measure the distance from the tree to the tree where you want to hang the lights. Consider how tight you want the lights pulled as you measure. Taut lights give more structure, while looser ones feel more casual.
Drill guide holes on the trees where you want to hang the lights. With a helper, string the lights from one tree to the next, holding them carefully to ensure the holes are the proper distance apart. Mark the spots on the trees and drill guide holes.
Install a hook into each tree at the marked spot. Install the bulbs in your string lights.
Thread the string lights onto the hooks. Make sure they're securely in place.
Connect your string lights using an extension cord if needed. Check to be sure your string lights work correctly. Use an additional hook to secure the string lights firmly against the trees if necessary.
Why choose hanging solar lights?
There are many benefits of purchasing hanging solar lights; perhaps the first most obvious is that it's environmentally friendly. Since solar lights use clean energy, it'll help with reducing the overall global carbon footprint.
Hanging solar lights are also inexpensive. While they may be more expensive than regular lights when you first purchase them, they'll help save money in the long run. Not only will they minimize your electricity bill, but you also won't have to worry about forking out additional cash for batteries or bulb replacements every other month.
They're also easy to maintain and only require a few check-ups and cleaning throughout the year. There's nothing else you need to do to ensure their longevity.
Another great benefit of hanging solar lights is the wide variety of styles they come in. If you're looking for something aesthetically and visually appealing, hanging solar lights are the way to go.
What are the types of hanging solar lights?
Flat bottom lights can be installed in two different ways. You can either hang it on a hook or place it flat on the ground.
You can only hang them on using the hook that your purchase should come with for those that don't have a flat bottom.
What to know before choosing hanging solar lights?
With hanging solar lights, you'll likely be moving them around and placing them in different places; hence, they must be portable.
It is crucial when it comes to purchasing your hanging solar lights. They should be made of heavy-duty material and should also be weatherproof.
You'll also want to consider the amount of solar power that the light would require to stay switched on in the evening and how long the lights would last overall. Solar light batteries aren't cheap, so it's good to gauge how long and often you can use your lights before making a replacement.
What colors they have, the different types of design they come in, etc. Some hanging solar lights also come with extra features such as timers and controllers, so that's something you should consider when making your purchase.
Most solar-powered string lights can only be turned on and off, but if possible, look for a unit with a switch that can activate different modes.
Solar string lights use LEDs that are more energy-efficient than traditional bulbs. The bulbs come in different designs and shapes, including vintage edition designs.
One of the things that makes the solar-powered hanging lights useful is that they don't need to be plugged into an electric circuit. It offers the advantage of flexible placement. Most of the strands have some multi-foot lead between the solar panels and the first light.
Hanging Solar Lights
Install Brightech's solar-powered pergola lights as a canopy over your porch or gazebo for a retro bistro look and a pleasant party ambiance.
The Ambience Pros are bright enough to grill and eat without being overpowering. They last 5-6 hours on a full charge, i.e., 6 hours of direct sunlight. According to reviews, indirect sunlight works too but provides less charge/hour.
Place the solar panel almost anywhere with the included stake and clip. Solar string lights don't need an outlet, so spaces far from a building can be well lit.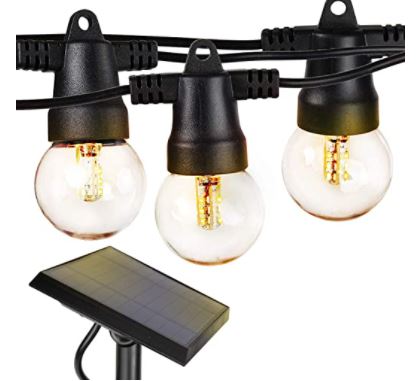 Features:
Solar Powered
Vintage
LED
Made of iron and plastic, it is a decorative light, so the light is subtle and soft, the ambient glow fills the area with calmness and beauty, rustic-looking style hanging solar lights can be a fine landscape accessory.
Powered by solar, the lanterns automatically turn the lights on at dusk and off at dawn, saving energy. The switch ON/OFF on the lantern cover; make sure you TURN the ON button before charging.
Add elegance and color to your patio, porch, or outdoor space with this beautifully crafted solar-powered lantern.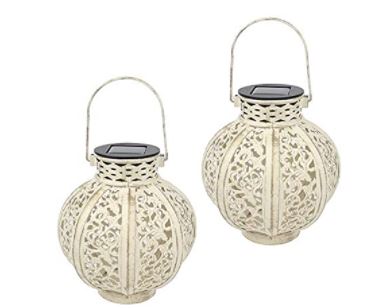 Features:
Solar Powered
White Finish
Plastic
The string lights can be used for about 8 hours when they are fully charged from directly shining during daytime with solar-powered.
With IP65 waterproof grade, the solar panel with a light sensor, the string lights automatically lit up at night if the switch keeps on.
The lights with two switch buttons, one for power control another for controlling eight modes to choose different light effects.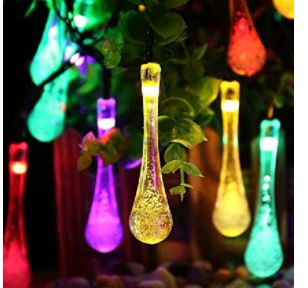 Features:
Eco-Friendly
Easy to Use
Waterproof
The Led Wind Chime lights up automatically at night, featuring color-changing LED bulbs and changing colors. Glow in your family night. It can make your garden more beautiful.
Led lights work lasts up to 8-12 hours when fully charged. Eligible and durable plastic products, no fade, no shape change, no fear of Ice and cold.
The wind chime is waterproof, durable, and easy to hook and hangs in the window, Christmas trees, fences, patio, garden, lawn, other features. Charge under the sun before you use it in the night.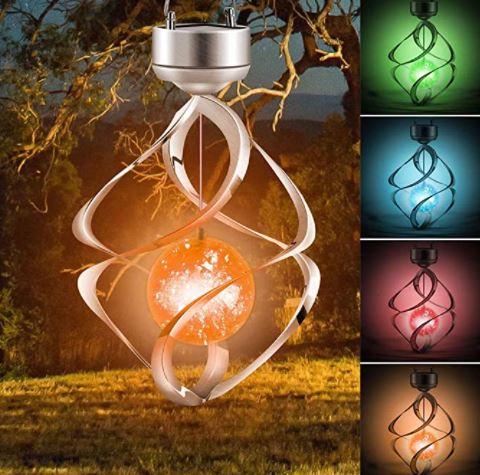 Features:
Solar Energy
Light Sensor
Indoor/Outdoor
The distinctive dancing flame is attractive, which looks like the real flame; The warm yellow light creates a welcoming ambiance. This flicker candle effect solar light will be the best choice for an alternative candle lantern.
This lantern light is solar-powered; no wires are needed. Just put it under the sunshine to absorb the solar energy, then the solar panel will transfer the solar energy into electricity. It is energy-saving and helps you save money.
Equipped with a durable hanging lamp and a circular ring, this solar lantern light can be hung or clipped on anywhere you want. Also, it will automatically turn on at dusk and off at dawn.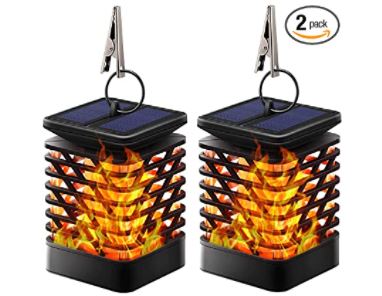 Features:
Plastic
Solar Powered, Battery Powered
LED
Pack of 8 pcs with color-changing led lights is perfect for indoor and outdoor decoration. Ideal for home, balcony, fence, driveway, Christmas tree decoration.
Solar-powered, no wiring or outlets needed, no installation necessary, just turn the switch to "On," and hang the lamp in a place where it can absorb direct sunlight.
Featuring a shimmering crackle glass globe, a sturdy stainless-steel hook, and a bright color-changing LED, it adds a unique light effect to your garden.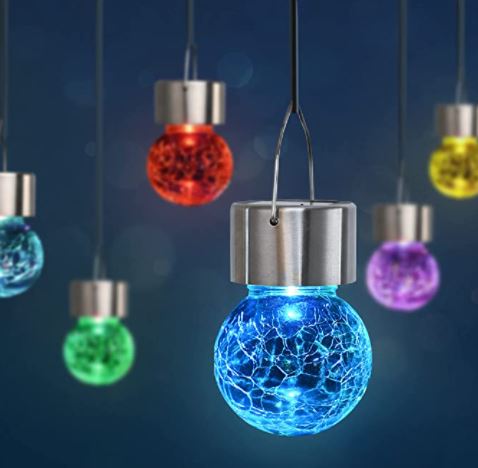 Features:
Patio
Solar-powered
Easy Installation
The multi-color crystal ball light automatically lights up at night, adding a romantic and charming atmosphere to your home garden, patio lawn, porch gate yard, etc.
Both the LED and the solar panel are waterproof, withstand all kinds of weather, do not worry about heavy rain and snow, and are suitable for outdoor decorations.
With high-tech solar panels, changing the solar energy into electric energy efficiently. No need for an additional battery.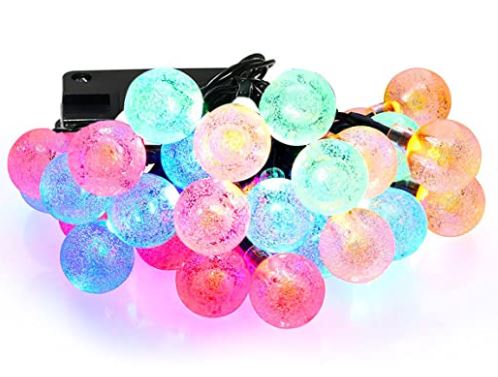 Features:
Environment Friendly
Multi-Color
Waterproof
Another popular choice I have been finding more and more around my neighborhood is solar fairy lights.