If you are the creative type and love to decorate your spaces, then chances are you may have come across solar fairy lights to decorate your backyard, garden, or even your business. These are a great option to do so because solar fairy lights are not only efficient, but these solar-powered technologies last for many years. This is why today we'll be telling you all about how solar fairy lights work.
Solar Lights are viewed as the most practical and energy-efficient solution for lighting up the outdoors. Apart from providing aesthetical value, they add safety and security to your home and don't require any electricity to be powered on.
However, if you are new to solar fairy lights and are currently searching for the best possible options for you and your needs, things may seem a bit overwhelming. With many options in the market, things get a bit fuzzy but do not worry because we'll be breaking down everything you need to know. Continue scrolling down and discover how do solar fairy lights work.
Solar Fairy Lights FAQ
What are solar fairy lights?
Unlike electric lighting, solar-powered lights consist of LED lights powered by the sun. Solar fairy lights are attached to a control box with a solar panel on the outside and batteries on the inside. The solar panel transfers power from the sun to the batteries. When night falls, the batteries use that stored power to light up the LED bulbs. At dusk, a light sensor automatically turns on the lights and turns them off at the break of dawn.
What are solar fairy lights used for?
String lights, also commonly known as decorative lights or fairy lights;- are a special type of lights used for outdoor and indoor decorations. Initially, string lights were mostly used during festive or holiday periods especially Christmas, and this is why it is also often called Christmas lights.
Do solar fairy lights work?
It's true, most solar fairy lights use a standard crystalline solar panel. This is found on our standard solar fairy lights which give great performance in summer with decent days of sunlight, although during the rest of the year it will really struggle to light up unless there is a day of glorious sunlight.
Why do you need solar fairy lights?
Solar garden fairy lights create a mesmerizing glow for indoors or out. If you've been looking for the right lights to add to your decor, then warm, white solar-powered lights should be your go-to option.
Are all fairy lights solar-powered?
No. You can also find small, electric lights on a strand to decorate your space, as well. There are also battery-operated garden fairy lights that come with an attached battery box. But, if you don't want to deal with plugging them in, using an extension cord, or the unsightly battery box dangling from the string of lights, solar-powered fairy lights are the way to go. What if the bulb runs out? Read more about solar powered bulb options, so you can be ready if that problem comes up
Can you get solar fairy lights?
You can find solar fairy lights in many retail stores, especially around Christmas time, but just be aware that you pretty much get what you pay for.
Do solar fairy lights need direct sunlight?
No, solar lights don't need direct sunlight to charge solar lights. Whereas, solar lights need light in some form to power them on. But this can be produced without the presence of sunliHence; hence solar lights can get charged from artificial light, incandescent, LED lamps, etc.
Are solar fairy lights waterproof?
The solar fairy lights can withstand all kinds of weather, including heavy rain and snow.
How long do solar-powered fairy lights Last?
On average they only last for up to 600 charges so you'll find that usually within 2 years a replacement is needed. At Lights4fun we ensure that all the solar items that we manufacture have a removable and replaceable battery, so you can have more years of illumination.
Why won't my solar fairy lights work?
In most instances of solar-powered lights not working, it is the batteries at fault. Either they are not receiving charge or they are not holding it. If the lights work using normal batt, the problem is with either the rechargeable batteries or the solar panel.
Can you use solar fairy lights indoors?
Yes it is possible to run solar power fairy lights inside, however, you must purchase a good set of solar fairy lights, you can tell this by looking at the panel of the unit, if there are a lot of solar cells on it, then it is a good indication that the unit has been thought through, the battery is also important, as this is where you store the reserve of energy, a large battery can be used as a 'bridge' for those days which are very gloomy.
Also keep in mind, location; it is very difficult to make solar fairy lights operate facing north, and so a good bright sunny south-facing window is essential.
How do solar fairy lights work?
The fairy lights or LEDs are nearly always attached to a control box that contains batteries. The power is stored and used when darkness falls.
The control box is then in turn connected to a solar panel, which charges the batteries during daylight. The light sensor (dusk sensor) in the solar panel turns the lights on/off automatically at dusk/dawn or when the battery depletes.
There are many different designs, for different countries and climates. It is important that you choose a set of fairy lights that is designed for your climate.
What to know when choosing solar fairy lights?
Solar Panel
A solar panel turns light into electricity. It can turn nearly any light into electricity if the source of light is strong enough, the best source is the sun because it is free and very strong.
A good quality solar panel can generate electricity in shade or in cloudy weather, it's not as much as if in full sunlight, but it is enough to use for practical applications, such as lighting with the use of energy-efficient LEDs.
One solar panel is made up of many small solar cells, photovoltaic cells. Each of these cells uses light to make electrons move.
Control Box
The control box varies with each different set of lights that you purchase, in essence, the box should be acting as a regulator, guiding the electricity efficiently to the battery, and not allowing the battery to overcharge (which can damage batteries).
The control box should also prevent the battery from discharging, this is called overcharge/discharge protection, and it does not come as standard in some of the cheaper control units.
Nearly all units offer automatic lighting by way of a sensor that is built into the panel. This sensor measures the amount of light, and when it senses that it is dark/light, it switches the lights on / off.
Solar Fairy Lights
There are 8 different settings on the back of the solar panel to create a dreamy feeling and your garden looks like a enchant fairyland at night.
Solar fairy lights are an amazing addition to your yard, creating a pleasant mood for events, parties, or weddings. Fairy lights are solar-powered and feature a rechargeable 1XAA 1.2V 800mAh Ni-MH battery for long-lasting use.
Fully adjustable solar panel to match the best direction of the sun for better charging during the day. A built-in photo sensor will automatically turn on at night for hassle-free illumination.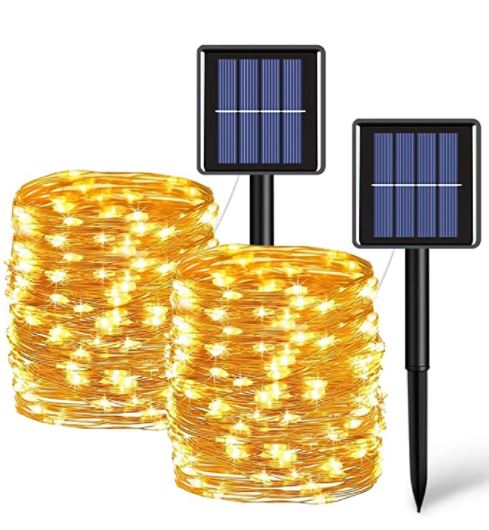 Features:
Copper
8 Lighting Modes
Solar Powered, Battery Powered
The 120 LED bulbs are powered by 40 feet of high-quality copper wire and have a stable 360-degree viewing angle. In addition, in the dark, the copper wire gradually fades to invisible, leaving only fairy-like lights, creating an elegant and romantic atmosphere.
These solar flashing lights are strictly designed to withstand any weather, be it rain, sun, or snow. All components are IP44 waterproof, making it suitable for indoor and outdoor use without worrying about short circuits or weather damage.
The solar light has an On/Off button and a mode button on the solar panel.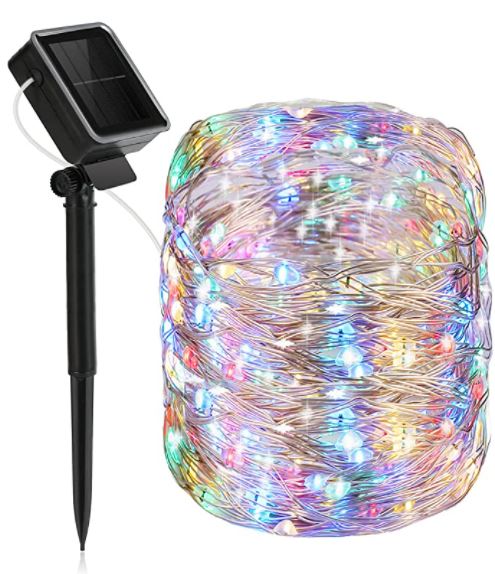 Features:
Multicolor
Plastic, Copper
8 Lighting Modes
These solar twinkle lights have the On/Off button and mode button. You can select 8 different modes to satisfy your diverse needs by pressing the mode button.
And the built-in memory chip saves your last modes setting, so there is no need to reset it again.
This outdoor string lights charging by solar energy, have no extra utility electric cost, and no need to replace the battery. it can work up to 10-12 hours after being fully charged (6-8 hours).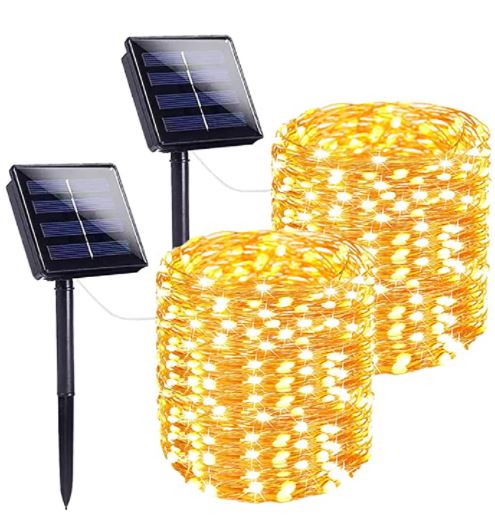 Features:
Waterproof
Plastic, Copper
Outdoor
Choose from 8-Lighting modes to warm your heart and light any occasion from combination, waves, sequential, slogs, chasing/flash, slow fade, twinkle/flash, and steady on.
The flexible and durable copper wire can bend to any shape you want, easy to affix to tree or shrubbery or pergola or deck in any position you like.
Lights for up to 10-12 hours after fully charged. Two switch buttons, power on/off. Auto on at dusk, auto off at dawn.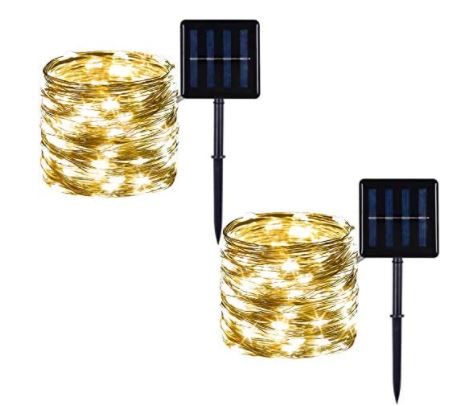 Features:
Copper
Warm White
Lighting Modes
No wire required, just place the solar panel where there is sunlight and it will work automatically. Charge by the sunlight for 6 hours, can work up to 10 hours or more when fully charged.
The outdoor string lights will automatically turn on when it's dark and turn off during the day.
The LED cooper string light is IP65 waterproof, suitable for both indoor and outdoor lighting decorations. Low power & heat insulated copper wire will not make it overheat during usage.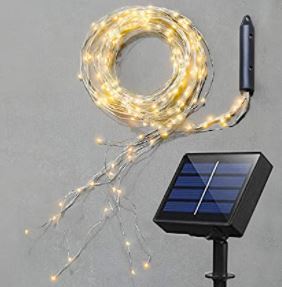 Features:
Waterproof
Easy to Use
Safe to Touch
Advantages of Solar Fairy Lights
Quick and simple to install (no need for mains sockets or wiring or safety plugs)
Self sufficient : you can put them anywhere there is light, they also come with a 'lead' wire (wire between the solar panel and the very first led) this gives more flexibility when locating the panel.
Safer than mains powered fairy lights, the voltages involved in the average set of fairy lights is 1.2 volts compared to 230 volts for mains and yet they are just a bright.
No operating costs unlike mains powered lights
Turn on and off automatically using a light sensor
They are environmentally friendly, these units may cost the same to manufacture as the mains but after this they are money-saving, and also are extremely good for the environment.