Is your garden missing something? How about fantastic ground lights! If you are on the lookout for a lighting solution for your garden, then you should consider ground lights, which not only get the job is done, but they're also lovely to look at, adding a unique style to your garden. So today, we'll be telling you all about different types of ground lights.
In addition to providing aesthetical value, ground lights add safety and security to your home, illuminating the way ahead; and solar ground lights don't require any electricity to be powered on. Want to hear the best part? They can be installed easily on driveways, pathways, walkways, walls, patios, decks, and lawns.
However, if you are new to ground lights and find yourself on the lookout for the best possible option for you and your needs, things may seem a bit overwhelming. With many options in the market, things get a bit fuzzy but do not worry because we'll be breaking down everything you need to know. Check out below some of the best types of ground lights.
Ground Lights FAQ's
What are ground lights?
Ground lights provide a low voltage option for clearly identifying a distinct boundary in the landscape's design. Common boundaries found in landscaping are driveways, pathways, and designated seating areas. Paver ground lights are similar, but these are installed flush with the pavement.
What are lights in the ground called?
An inground light, or well light, is typically a circle-shaped fixture that installs directly into the ground and is often used to illuminate walkways and driveways.
What is an in-ground well light?
In fact, the full name of the light fixture is outdoor in-ground well light. These light fixtures are used to uplight trees and bushes with minimal visibility of the light itself.
How far apart should ground lights be?
Generally speaking, you have to plan where should outdoor landscape lights be placed. Putting your lights six to eight feet apart is preferable to ensure your pathway remains bright and well-lit. However, spacing them even closer is an option, particularly if you want an incredibly vivid effect.
Where should well and ground lights be used?
Large yard or house structures can benefit from a wide beam of light. Different mounting options are available for mounting flood lights on the side of homes, top of handrails, or in the ground. Well, lights look great when placed at the base of a statue, fountain, mailbox, or other yard structure.
What are some of the benefits of solar ground lights?
Energy source: As solar energy is free and available for as long as the sun is out, the solar ground lights will charge on their own and keep working till dusk.
Installation: The lights are wireless and easy to install. All you have to do is stick them into the ground in a position and area where they receive good sun exposure.
Easy maintenance: Although solar ground lights are self-sufficient, you will have to wipe them once in a while to clear away debris, water vapors, and possibly dirt.
Safe and child friendly: With wireless solar ground lights, you can finally relax in your garden without worrying about your child tripping over the countless wires or your dog chewing them till they stop working.
What factors to keep in mind when choosing ground lights?
Durability: Materials such as stainless steel are mostly preferred outdoors because they can withstand harsh weather conditions and wear and tear.
Water resistance: Most solar lights are made water-resistant because of their presence under the open sky.
Brightness: You need first to figure out the intensity or brightness you need to get from your solar-powered ground lights. If you want to illuminate your garden in the best way possible, you should opt for solar ground lights containing LED lights.
Light color: You can go for a variety of funky colors and shades that add personality to your garden and patio, making it stand out among all others.
Design: Solar lights are mostly installed for their aesthetic appeal as well as their energy-saving nature.
Battery life: The minimum running time should be 6-7 hours.
Ground Lights
These beautiful, cold white, led pathway lights, solar, save energy and money. Equipped with high-performance batteries and long-life LED lights, they automatically turn on in the evening and off at dawn, providing up to 8 hours or more of brilliant light when fully charged.
Powered by the sun, they're environmentally friendly, help you save electricity, and are designed to be the brightest night when most needed.
These bright solar garden lights create an elegant outdoor lighting experience with attractive, modern designs, perfect for your walkways, driveways, gardens, and more.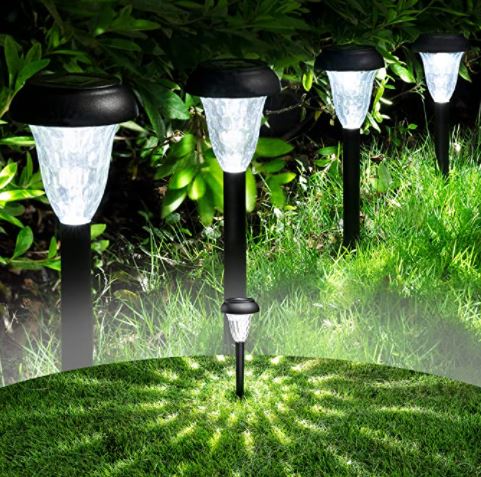 Features:
Solar Powered
Energy-Saving
Easy Installation
Each Solar Garden light consists of 8 LED lights with a 600 mAh battery. Charging for 6-8 hours can illuminate for 8-10 hours. ( solar Garden light Charging and working hours will vary depending on the weather).
When using, open the switch under cover of the buried lamp and push the pile into the soil. Landscape Path Lights automatically turn on at night and automatically turn off at dawn.
These Solar Pathway Lights can be used to decorate your stairs, driveways, patios, or flower beds to add a touch of pleasing brilliance.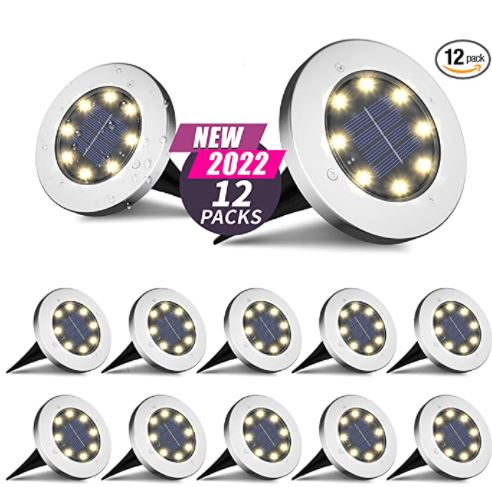 Features:
Metal
Waterproof
Easy to Install
Solar lights with built-in 600 mAh Ni-MH large-capacity rechargeable battery can light up for 8 Hrs after fully charged maintain a continuous and well illumination even though on occasional rainy days and cloudy days.
Disk lights have 5 LEDs, adopting the advanced energy-saving technique( the ground solar light's energy conversion rate can be up to 14%).
The high-quality stainless steel makes the lamp exquisite, classy, waterproof, and more durable than similar solar lights. IP65 waterproof makes it suitable for outdoor use.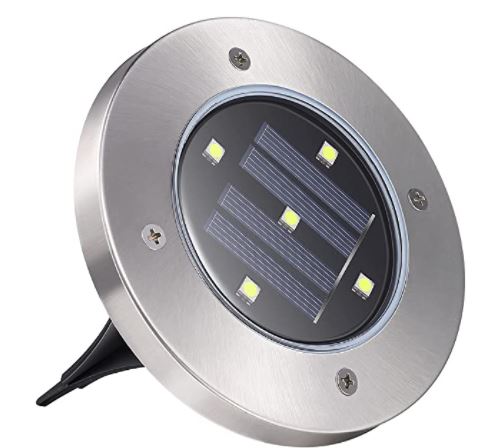 Features:
Stainless Steel
Brighter lighting
Wireless Design
These black solar path lights could provide soft lighting and make an excellent addition to any yard or patio.
You don't have to worry about rain and snow weather; their solar lights are perfect decor for your outdoor walkway, pathway, driveway, and so on.
Each light is easy to install. Just connect the parts. (The stakes are placed in the tubes, need to be pulled out first).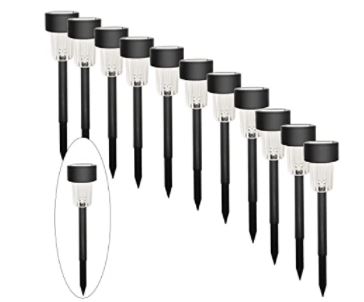 Features:
Solar Powered
Plastic
Classic Style
Each solar garden light has a built-in 600 mAh battery; when replacing it, use only the type:600 mAh Ni-MH battery.
These outdoor lights turn on automatically at night; the number of hours the lights stay on depends on the amount of sunlight received the day before. Up to a max of approx. 6-8hours.
An IP65 waterproof design and high-strength ABS make it suitable for outdoor use. Recommend placing the solar light in a frost-free environment to reduce the possibility of damage.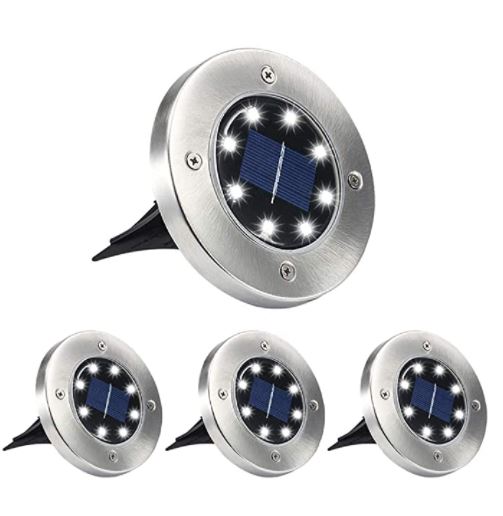 Features:
High Efficiency
Waterproof
Battery-powered
If you are interested in reading about other battery operated outdoor lights, check out our article on that topic.